SME Business Meeting Venue Reading
The new 2 AA Merit 4 Star Holiday Inn Reading M4 Jct10 supports local SME businesses in Berkshire.
In recent years the government has shown a keen interest in growing the number of small business start ups within the UK. As a result the Government has funded many developing schemes to help the growth of the UK economy.
The growing number of UK small business start up's has grown considerably in the last couple of years and one particular success story is The Business Biscotti group. Offering free business networking opportunities for both small and medium sized enterprises, giving businesses the opportunity to meet together, offer advice and build strong working relationships. To mark the official opening for this year's Business Biscotti, the Holiday Inn Reading M4 Jct10 has opened it's door to play host to this growing community. Having supported the Business Biscotti community within the area for the last year the hotel takes much pride in welcoming these businesses to the hotel.
Great Meeting Venue with On Site Facilities
SME's are free to drop in for an informal meeting in the hotels stylish Monty's Bar & Lounge and on request are free to use the hotel's 2 AA Rosette Caprice Restaurant to host larger networking meetings and Charity events. Ideally located to Winnersh Triangle train station, within close proximity of the M4, Reading, Bracknell & Wokingham, the hotel is positioned in the ideal location for many growing businesses – not just in the local area, but for people who wish to meet just outside of London.
The hotel understands that networking is key to the success of groups such as Business Biscotti, so makes it's mission to provide the very best in service and hospitality. If SME wish to entertain potential clients, then the hotel's cosmopolitan design is the perfect setting. To add to the fine Gourmet food, guests are able to also enjoy the hotel's resident pianist whiles they dine.
Gym & Spa Meetings
Who says that potential networking meeting's have to take place in the conventional form? It's proven that exercise increases your brain's mentality and again provides a more relaxed way of networking. The hotel's Esprit Fitness and Spa offers corporate memberships at a very appealing rate. Offering 19m indoor heated Pool with Sun Loungers, large Gym with Life Fitness Equipment, Sauna and Steam Room with Essence Dosing. A full range of Dermalogica Spa Treatments available.
If you are a SME and wish to take part in a growing business community, why not come and visit the 4 star Hotel on the first Thursday morning of every month from 09:30 to 11:30 and get involved with Business Biscotti.
The Holiday Inn Reading M4 Jct10 is proud to say that it's the little things that make the big things count. Click here for our Conference & Banqueting Brochure
SME Business Meeting Venue Reading Offers and Booking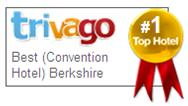 Keep up to date with all our Special Offers, News & Events. Tweet us on Twitter at: @HIReadingM4J10 or follow us on FaceBook at: HIReadingM4Jct10
Please call us on 0118 944 4230 or email events1@hireadinghotel.com should you require any additional information.